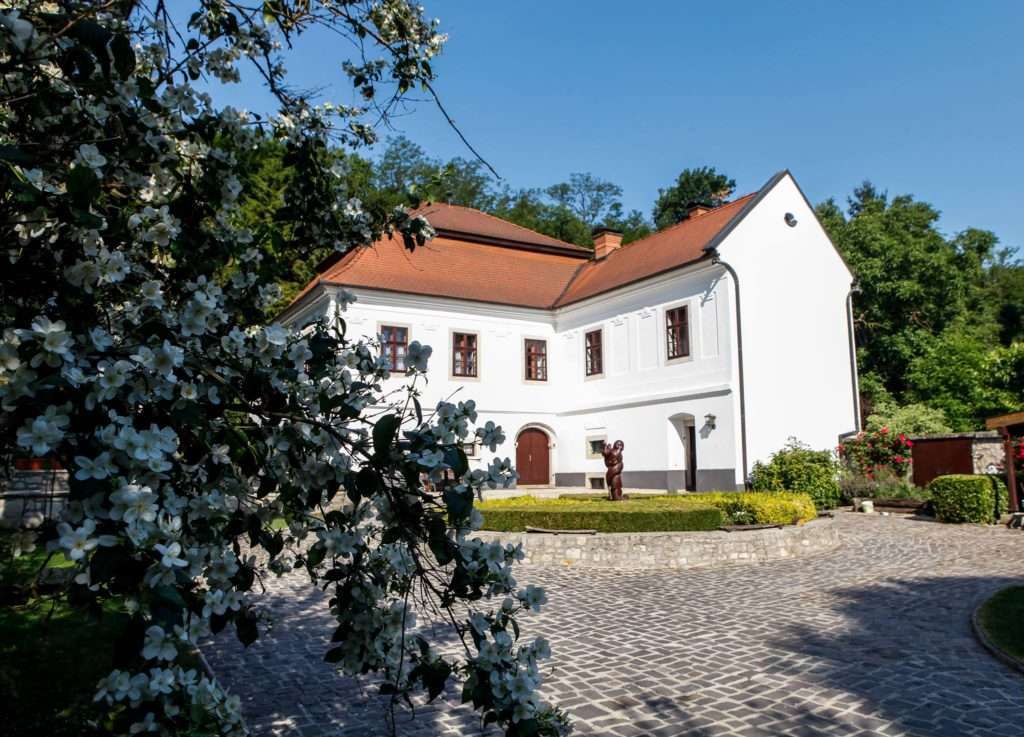 The history of our winery began in 2009 with the purchase of five hectares in the superb Rány vineyards, which were augmented in 2014 with ten hectares in the Szent Mihály vineyards in Olaszliszka. The grape varieties used are Yellow Muscat, Furmint, Hárslevelű and Kövérszőlő; the latter is a Hungarian variety which is currently having a renaissance in the Tokaj wine region. In making our wines, we use only grapes we grow ourselves, which ensures the most appropriate care and attention during both cultivation and processing. We take pride in the fact that most of the work is done by hand, which means that we not only provide work for a lot of local people, but we have also managed to apply BIO certification. In our vineyards, we utilise the low cordon version of the single curtain training system. A yield restriction (four tons per hectare) has been introduced to prevent overloading the vines, and after several green harvests, only the most beautiful grapes are processed. During processing we use state-of-the-art equipment to try to preserve the aromas and minerality that have made the vineyards of Tokaj deservedly world-famous and peerless. Aging and fermentation take place in barrels of Gönc and Szerednye made of the so called Zemplén-oak that is dried for three years or, depending on the technology, in stainless steel tanks. The barrels are placed in our wine cellars nestled inside a mountain in Erdőbénye, one of which is exactly below the Budaházy-Fekete Mansion, built in 1650. We strive to show our gratitude for this savoury "treasure" of Hungary with love, respect, care and the preservation of traditions, hoping that we can delight many people with our wines.
Rémusz Dávid is a member of TOKAJ GENERATION Y
Five young Tokaj winemakers. Some have started from nothing, and some have expanded the framework of their family winery, but all agree Tokaj is one of – if not – the most exciting wine regions in Hungary. As in other wine regions the new generation here is making its own way, curiously, experimentally yet respecting tradition and creating new values.
Mebers: Rémusz Dávid (Budaházy- Fekete Kúria Winery), Dorka Homoky (Homoky Winery), Laci Kvaszinger (Kvaszinger Winery), Ádám Varkoly (Árpád-hegy Winery), Kata Zsirai (Zsirai Winery)