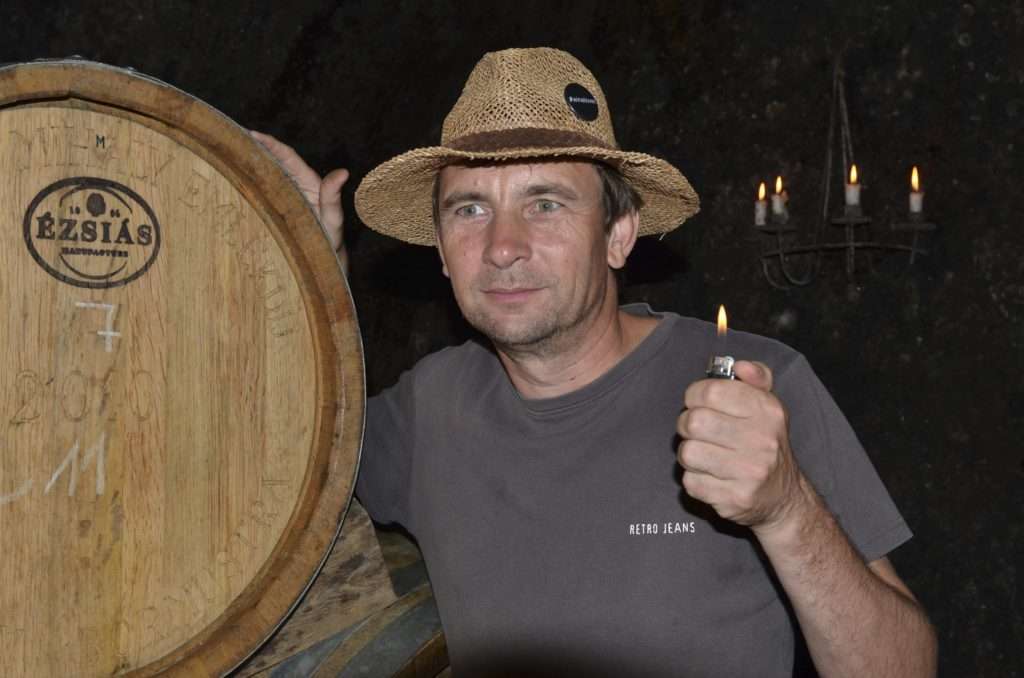 The winemaker, István Spiegelberg, was born in Berlin and used to work as a test pilot for BMW in Germany – now he is one of the few permanent residents of the Somló Hill. Besides viticulture and winemaking, he occasionally works as a tourist guide in the region.
He has always had strong ties to Hungary and Somló. His grandmother lived in the village of Somlójenő, he visited her regularly during school holidays, and used to spend a lot of time on the hill. He first decided to move to Hungary at the age of 20, and started to work in a theatre in Budapest, but ultimately he moved back to Germany and had lived in Munich for almost 19 years.
In 1993, he bought a wine cellar for holiday home, but he ended up spending time in the vineyard as well. As a result, in 1998, he produced the gold medal winner wine of the region. In the beginning, viticulture and winemaking were for a long time a hobby for him, as he visited Somló only every other week. He bottled and sold wine of his own production for the first time in 2004, and received positive feedback in the relevant professional circles at both domestic and international level. Therefore, he had to decide which path to follow in the future – wine-growing was too serious for a hobby, but he could not make a living out of it. In 2007, he chose the wines of Somló. He has been living on the hill since then.
He purchased in the meantime several properties on the hill, therefore he has vineyards in different locations of the region. On his vineyards, grapes are grown organically, free of chemicals.
Wine enthusiasts visiting his winery can taste and buy his wines produced from Juhfark, Welschriesling, Cuvée, Furmint, Hárslevelű and Chardonnay varieties. The property is open for up to 20 visitors by prior appointment, and accommodation is also available for up to 10 people. Besides winetasting, cold and hot dishes as well as homemade bread prepared in the wood-burning oven are also available under village guest catering.
Furthermore, arts and crafts programs are organized in the form of summer camps.